DUBAI, 17 Feb 2022 – In recognition of his exceptional achievements as an entrepreneur, industry leader and philanthropist, Jawhara Jewellery® founder and CEO Tawhid Mohammad Taher Abdullah Al Mohtadi has been selected as the first recipient of the Lifetime Achievement Award at the inaugural Jewellery World Awards (JWA) Dubai.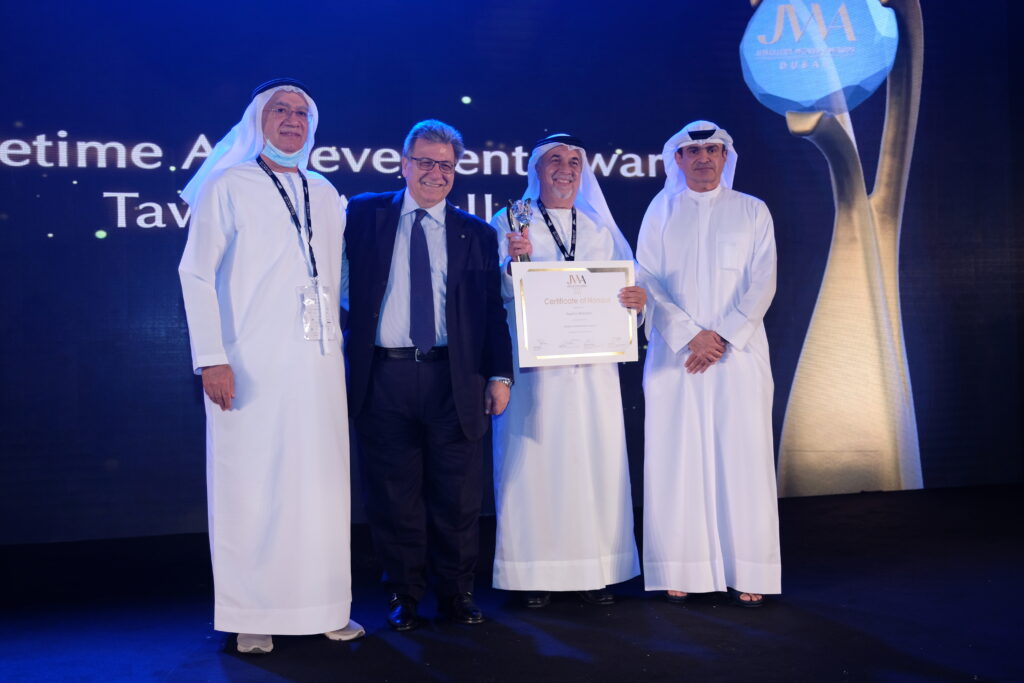 (Second from the right) First recipient of the Lifetime Achievement Award at the inaugural Jewellery World Awards (JWA) Dubai, Tawhid Mohammad Taher Abdullah Al Mohtadi, founder and CEO of Jawhara Jewellery®
 "Whether in overcoming a regional financial crisis or a global pandemic, Tawhid has constantly inspired his peers in the industry with his vision and leadership. It is our great honour to recognise, not only of his achievements in business, but also the many lives he has touched through his work as an industry mentor and his generosity in charitable causes," said Letitia Chow, Chairperson and Founder of JWA at Informa Markets Jewellery.
After leading a highly lauded financial restructuring programme that paved the way for a new beginning, Tawhid opened the doors of Jawhara Jewellery in 2013. Under his leadership, the company expanded its global footprint as a vertically integrated wholesaler, retailer, importer and manufacturer of gold, diamond and pearl jewellery — one with more than 240 points of sale in key cities in the Middle East.
In 2020, Tawhid showed the same kind of vigour in overcoming adversity when COVID-19 struck. Aside from successfully launching an expansion plan that grew his company's presence in various parts of the Middle East, Jawhara was also able to retain the services of all its employees — and even hired new talents at a time when many businesses were downsizing to cut their losses.
A spirited industry leader who tirelessly shares his voice and insights to mentor a new generation of jewellers, Tawhid is also being recognised for his philanthropic work. This includes his collaborations with the Rashid Paediatric Therapy Centre and the Emirates Red Crescent, through which he gives back to underprivileged members of society.
"As leaders, we are tasked to come up with a vision that will inspire growth, not just for ourselves or our respective businesses, but for the industries we belong to and the communities we serve.  I am truly humbled by this recognition and would like to share it to jewellers who continue to contribute to the growth of our sector in this part of the world, by inviting young generation to join this industry." said Tawhid, who has spent the last 20 years as chairman of the Dubai Gold and Jewellery Group — the emirate's largest trade body for the gold and jewellery industry.
JWA will officially present Tawhid's award in the highly anticipated gala dinner, which will be held at JGT Dubai (Jewellery Gem Technology Dubai) on 21 February 2022. JGT Dubai is a joint premium exhibition by Informa Markets Jewellery — the world's largest B2B jewellery fairs organiser – and Italian Exhibition Group SpA (IEG).
JWA Dubai 2022 is supported by Official Partner, DMCC (Dubai Multi Commodities Centre);  Title Sponsors Chow Tai Fook Jewellery Group and Jawhara Jewellery; and Logistics Partner Ferrari Group.
The inaugural edition of Jewellery, Gem & Technology Dubai (JGT Dubai), taking place from 22 to 24 February 2022 at the Dubai World Trade Centre (DWTC), is the industry's first international in-person B2B event of the year. Jointly organised by Informa Markets Jewellery and the Italian Exhibition Group, JGT Dubai has received wide industry support, including that of official partner, DMCC (Dubai Multi Commodities Centre); industry partner, the Dubai Gold and Jewellery Group, and trade associations encompassing virtually every aspect of the sector. The three-day fair brings together suppliers from Belgium, Hong Kong, India, Italy, Israel, Turkey, the UAE and other key sourcing destinations under one roof to meet the immediate and future buying needs of retailers, wholesalers and brands. Trade buyer registration has commenced. For more details, visit jgtdubaijewelleryshow.com.