HONG KONG, 20 January 2022 – In line with its goal of recognising the growing importance of the gemstone and jewellery trade in the Middle East, Jewellery World Awards (JWA) Dubai has named the judges for the JWA's first regional edition. Joining the esteemed panel are business leaders with solid track records in the jewellery and gemstone trade, as well as industry experts who constantly impart knowledge to members of the community.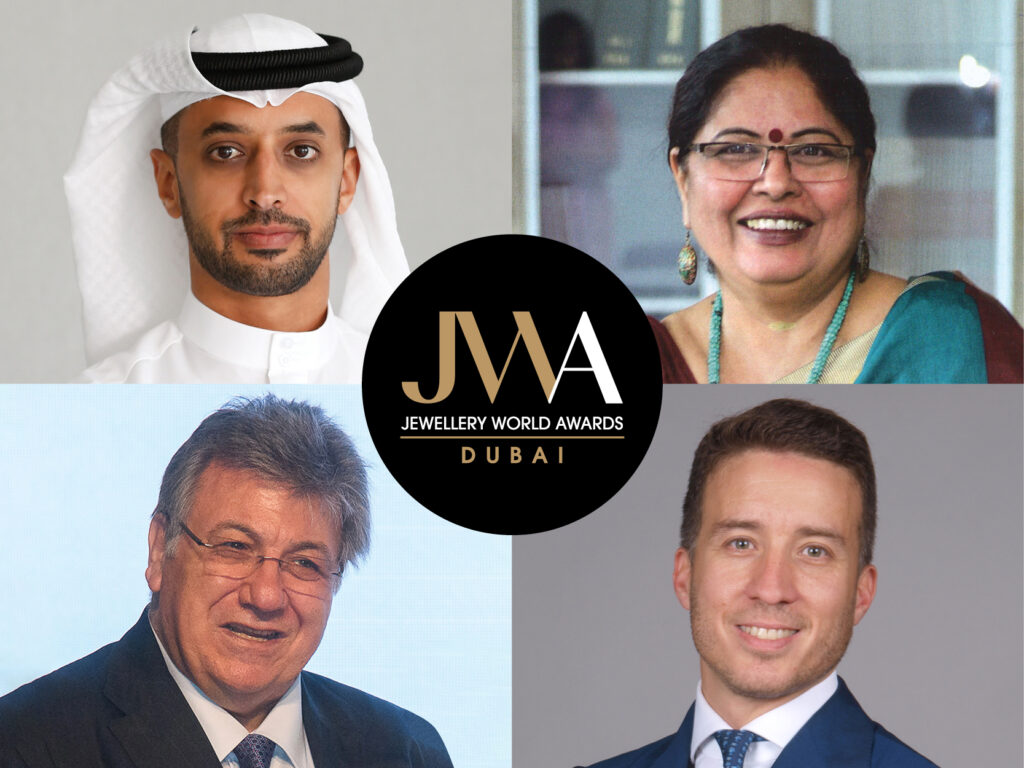 JWA Dubai 2022 panel of judges, from top left, clockwise: Ahmed Bin Sulayem, Executive Chairman and CEO of Dubai Multi Commodities Centre (DMCC); Nirupa Bhatt, Business Coach and Strategic Advisor to the gems and jewellery industry; Marco Carniello, Global Exhibition Director of Italian Exhibition Group S.P.A; and Gaetano Cavalieri, President of World Jewellery Confederation (CIBJO).
Leading the panel of judges are two principal judges, Nirupa Bhatt and Ahmed Bin Sulayem.
Nirupa Bhatt, a Business Coach and Strategic Advisor to the gems and jewellery industry, is a respected gemstone and jewellery expert, and she served as managing director of GIA India and the Middle East from 2008 until 2020. "The Middle East is a very unique and interesting region that caters to local and international consumers. I would like to extend my compliments to the JWA team for launching JWA Dubai in recognition of these outstanding businesses and the region's growing market share," said Bhatt.
While Dubai Multi Commodities Centre (DMCC) Executive Chairman and CEO Ahmed Bin Sulayem, is responsible for growing a business comprised of 28 founding companies in 2003, to one that currently has over 20,000 member companies from 180 countries. "It is a tremendous honour to have been invited into the judging panel of JWA Dubai, which trains the spotlight on the UAE and the opportunities its world-class jewellery sector brings. These are incredibly exciting times for the jewellery industry in the Middle East and DMCC is working hard with partners across the board to place Dubai at the very centre of it all," added Bin Sulayem, who is also Chairman of the Dubai Diamond Exchange (DDE) and the Dubai Gold & Commodities Exchange (DGCX).
Also lending his expertise to the panel is World Jewellery Confederation (CIBJO) President Gaetano Cavalieri, who has spent the last 20 years as head of the industry's oldest international organisation, which was established in 1926. "In less than two decades, Dubai has evolved into a key innovator in the industry as a city whose name has become synonymous with design excellence — just as the Middle East has become one of the most important markets in the global trade. I am honoured to be a judge at the JWA Dubai,"said Cavalieri, who is instrumental in obtaining CIBJO's "Special Consultative Status" from the United Nations Economic and Social Council. 
Italian Exhibition Group S.P.A Global Exhibition Director Marco Carniello, who has worked in strategy consultancy with Accenture and Bain & Co prior to joining his current organisation, has also been named as a judge. "Dubai continues to grow as a strategic gateway for jewellery businesses in the Middle East and beyond. Hosting JWA Dubai in conjunction with the new JGT Dubai trade show further affirms the important role the city plays in the industry today," he shared.
Rounding off the prestigious panel is Chairperson and Founder of Jewellery World Awards at Informa Markets Jewellery Letitia Chow. "It is our honour to have the support of various industry experts who have joined the judging panel of JWA Dubai. Guided by their vast experiences and knowledge of the jewellery and gemstone industry, we are ready to recognise individuals and companies who contribute immensely to the region's burgeoning trade," added Chow, who also chairs JWA Dubai's panel of judges.
Organised by Informa Markets Jewellery (IMJ) – the world's largest B2B jewellery fairs organiser –and Italian Exhibition Group SpA (IEG), the first edition of JWA Dubai is supported by its Official Partner DMCC, along with Title Sponsors Chow Tai Fook Jewellery Group and Jawhara Jewellery. It will culminate in a highly anticipated gala dinner and awards ceremony at the JGT Dubai on Monday, 21 February 2022.
The inaugural edition of Jewellery, Gem & Technology Dubai (JGT Dubai), taking place from 22 to 24 February 2022 at the Dubai World Trade Centre (DWTC), is the industry's first international in-person B2B event of the year. Jointly organised by Informa Markets Jewellery and the Italian Exhibition Group, JGT Dubai has received wide industry support, including that of official partner, DMCC (Dubai Multi Commodities Centre); industry partner, the Dubai Gold and Jewellery Group, and trade associations encompassing virtually every aspect of the sector. The three-day fair brings together suppliers from Belgium, Hong Kong, India, Italy, Israel, Turkey, the UAE and other key sourcing destinations under one roof to meet the immediate and future buying needs of retailers, wholesalers and brands. Trade buyer registration has commenced. For more details, visit jgtdubaijewelleryshow.com.